helo.my: There are hundreds (maybe thousands) of chicken parm recipes in the world, but this one is our favorite. Crispy, well-seasoned chicken, a flavorful tomato sauce with a kiss of sweetness, and, of course, tons of melty cheese. It's easy, simple, and classic.
Advertise for FREE*
Business listings, Events, Classifieds, Deals
www.helo.my/advertise
If you've never made chicken parm, you can find answers to all your questions below. You got this.
What kind of bread crumbs should I use?
The type of bread crumbs is pretty much up to you. We use panko to make the chicken extra crispy, AND we season it with garlic powder and salt to make sure each crunchy bite has as much flavor as possible. Panko gives you an airer, lighter crunch. For a more "traditional" chicken parm, you may want to use the more standard, finer bread crumbs. You can use the same seasonings we use or you could go even easier and pick up a box of seasoned breadcrumbs.
Do I need to fry the chicken?
In our opinion, for the ultimate chicken parm, yes, you definitely need to fry. There is no other way to achieve crispty crunchity chicken goodness. BUT that's not to say baked chicken parm isn't an insanely delicious alternative. Don't worry! Here, it's just a liittle shallow fry, so the oil (and clean-up hassle) is kept to a minimum.
Can I use store-bought sauce?
Of course! Ours is super-quick (like 10 minutes!), but a 32-ounce jar of good marinara will always work in a pinch.
Fresh or shredded mozzarella?
Either one. We always have shredded low-moisture mozzarella in our fridge, so that's what we used here. Fresh mozz works too! But you won't want to load up the chicken with too much of it, or you risk a soggy panko coating due to the extra moisture content in fresh cheeses.
What should I serve with it?
You can always go classic and serve this chicken parm alongside pasta (either boxed or made from scratch). But with chicken parm (or anything cheesy and tomato sauce-based), we love to serve something green: It's nice to have a light side to complement the crispy chicken, and who doesn't want to eat the colors of the Italian flag? You can do a simple green salad or pump up the flavor with some garlicky, peppery broccoli rabe.
What about leftovers?
First of all, we'd be truly shocked if you had any, but if you do, we recommend storing it in the fridge in an airtight container for no longer than 5 days and in the freezer for 6 months. When reheating, we recommend you use the oven or toaster oven to help revive some crunch in the chicken.
Yields: 6 servings
Prep Time: 15 mins
Total Time: 1 hour 15 mins
Calories per Serving: 478
Ingredients

For the chicken
1 1/2 c. panko bread crumbs
1/2 tsp. garlic powder
1/4 c. freshly grated Parmesan, plus more for garnish
2 large eggs, beaten with 1 tbsp. water
1/2 c. all-purpose flour
1 1/2 lb. boneless skinless chicken cutlets
Kosher salt
Freshly ground black pepper
Vegetable oil
1 c. shredded mozzarella
For the marinara
2 tbsp. extra-virgin olive oil
1/2 small onion, finely chopped
4 cloves garlic, sliced
1 (28-oz.) can crushed tomatoes
1/4 c. water
Kosher salt
Freshly ground black pepper
Pinch crushed red pepper flakes
2 tbsp. freshly chopped parsley, plus more for garnish
Directions
Preheat oven to 400º. Make chicken: Prepare breading station with three large mixing bowls: one bowl with panko, garlic powder, and Parmesan mixed with a fork; another with the egg mixture; and the third bowl with flour. Season chicken with salt and pepper, then coat each piece of chicken in flour and shake off excess. Dip chicken into egg mixture and then into bread crumb mixture; repeat steps for remaining chicken and set aside on a plate.
In a deep cast-iron skillet over medium-high heat, add 1/4" oil. When pan is hot but not smoking, add chicken. Cook until golden brown, 5 to 7 minutes, flipping halfway through. Transfer to a paper towel-lined plate to drain.
Meanwhile, make marinara: In a medium pot over medium heat, heat oil. Add onion and garlic and cook until soft, 4 minutes. Add in tomatoes and water, season with salt, pepper, and red pepper flakes, and let simmer, 10 minutes. Remove from heat and stir in parsley.
Pour sauce into a 9"-x-13" baking dish and place chicken in sauce. Top with mozzarella and bake until cheese is melty, 10 to 12 minutes. If desired, broil until cheese is golden, 3 minutes.
Garnish with parsley and serve immediately.
Nutrition (per serving): 478 calories, 36 g protein, 35 g carbohydrates, 4 g fiber, 7 g sugar, 22 g fat, 5 g saturated fat, 696 mg sodium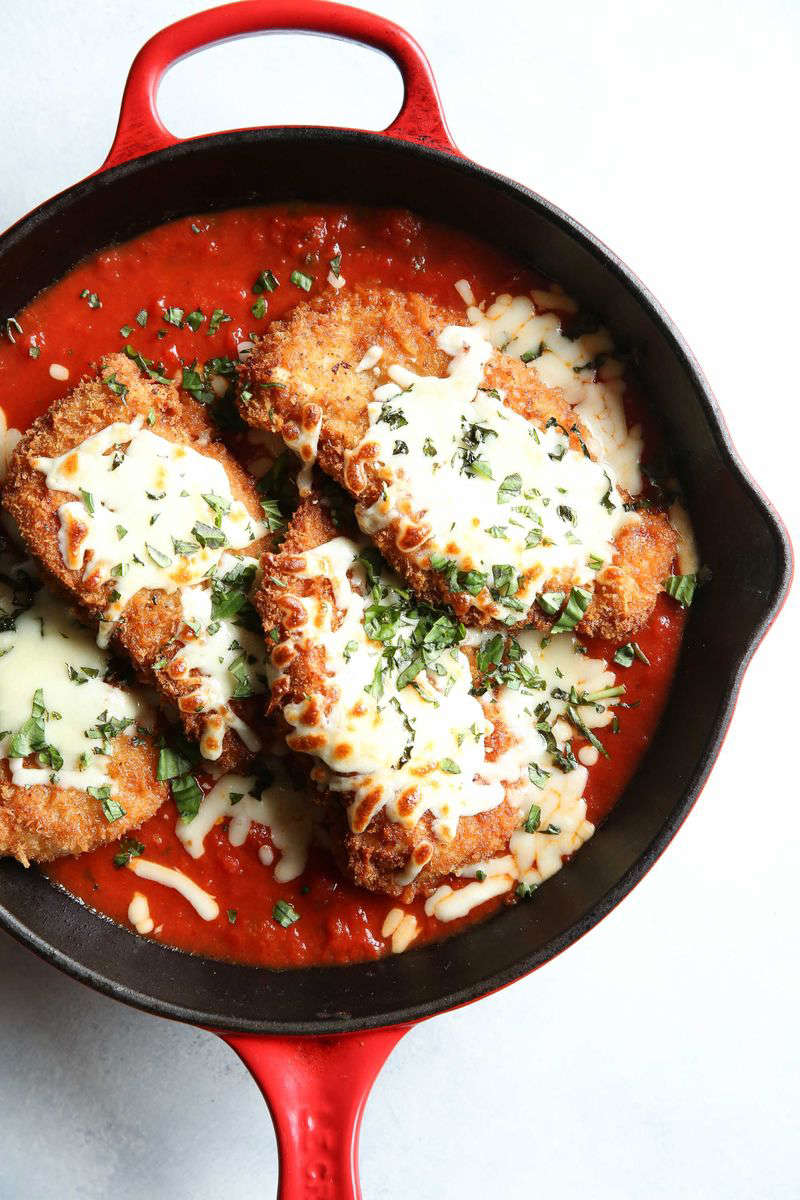 ---